Striping and Parking Bumpers
Concrete & Asphalt
Striping | Stenciling | Bumpers | Bollards
Asphalt striping and marking remain an essential part of most parking lot paving. Applying or installing adequate and proper markings, striping's, bumpers, speed bumps, or bollards can make a difference in the visual and functional utility of parking areas as well as playgrounds or other outdoor pavement surfaces. Properly laid-out designs can create a sense of safety and organization for vehicles and pedestrians.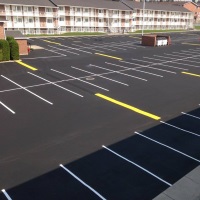 Parking Lot Striping, Layout, Restriping
B&T can handle your pavement marking and striping projects from beginning to end. We can assist with the layout planning, traffic flow, handicap markings, assigned parking spaces, other stenciling and safety markings. We take careful consideration in the design, flow and colors such as your standard blue, white or yellow paint.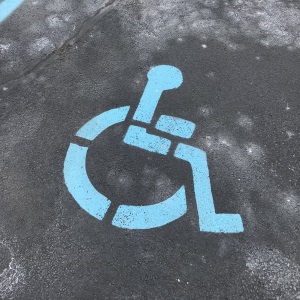 ADA Handicap Markings
In order to ensure your parking meets ADA compliance, we can design and stencil your handicapped-accessible parking areas. The quantity and type of handicap spaces required can depend on multiple factors, including the number of spaces available, lot usage, and local regulations. Styles of stencils used and paint colors are normally decided by the individual or organization or local regulations.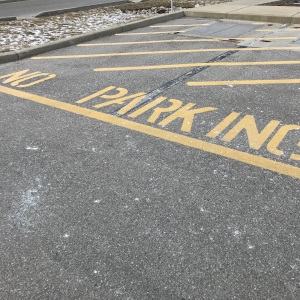 Parking Stencils
Seeing labels painted in parking lots such as Fire Lane, Visitor Parking, Reserved, Loading Zone, Customer Parking, Crosswalks, and Painted Curbs is common. B&T can utilize various types of stencils for traffic flow, safety, custom lettering and numbering. There are a number of different types of markings or striping that B&T can help with for your parking lot needs.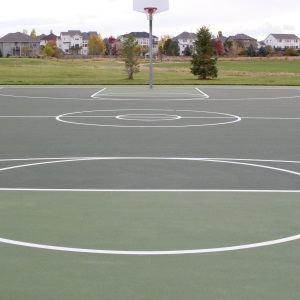 Athletic Courts and Playgrounds
If you are looking for a company to help with painting outdoor pavement for sports or playgrounds such as running tracks, basketball courts, 4-square, hopscotch, or even kickball diamonds, B&T can help.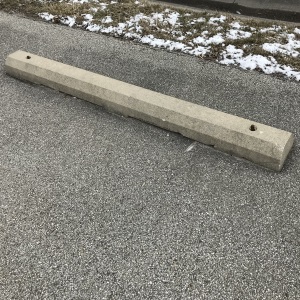 Parking Bumpers and Bollards
There are a variety of parking bumpers available to add in a parking lot and we can help install them, from concrete bumpers, rubber bumpers, concrete bollards, and various sizes and lengths for cars or trucks.
Need Striping or Bumpers?
Contact B&T for your FREE ESTIMATE