Asphalt Seal Coating
Indianapolis Asphalt Seal Coating Professionals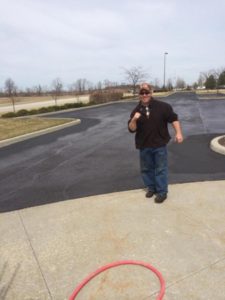 Why Seal Coat
Asphalt pavement is primarily rock and/or stone and gravel held together with a binder called asphalt cement.  Asphalt Binder is a byproduct created through the distillation of certain crude oils. The maintenance of the binder in asphalt is important for the life-cycle of asphalt surfaces because various elements from U.V. damage, water, oils, salts, and chemicals degrade the binder over time. In order to lessen the effects of the elements, it is important to implement an asphalt maintenance program utilizing a process called seal coating to extend the life of an asphalt road, parking lot, or driveway.
When seal coating is applied to your asphalt pavement, it delivers a layer of protection from elements of water, oils, U.V. damage as well as a slip-resistant surface.
At B&T, we utilize the quality seal coating by Brewer Cote that has produced quality and consistent sealers since 1933.
When Applying Seal Coating
When applying a seal coat to asphalt pavement, we recommend the following:
2 coat minimum application
Temperatures above 50 degrees for at least 24 hours. Do not apply if the forecast predicts below 50 degrees at any point during that 24 hour period.
Do not apply seal coating in the rain or if rain is in the forecast within 24 hours.
Do not allow vehicle traffic on seal coating for 24 hours after application.
It is important that once your asphalt pavement is seal coated, we recommend applying another seal coat every 2 to 3 years depending on vehicle traffic.
Indianapolis Seal Coating
If you are looking for a seal coating company in Indianapolis or the surrounding areas, B&T Seal Coating and Asphalt can help! We will do our best to answer all your questions and see how we can serve your asphalt and seal coating needs.
We serve Indy and the entire central Indiana area including Carmel, Avon, Greenwood, Noblesville, Columbus and everywhere in-between.
For a seal coating estimate, call (317) 736-8656 or send us an email
Need Seal Coating Work?
Contact B&T for your FREE ESTIMATE