About B&T Seal Coating and Asphalt
Family Owned and Operated Since 1995
B&T Seal Coating and Asphalt, a family owned and operated asphalt management company since 1995. We are professionally qualified to satisfy all your asphalt needs including commercial parking lots, communities, apartment complexes, churches, and personal driveways. B&T is trained and experience in the following:
Founder of B&T Seal Coating and Asphalt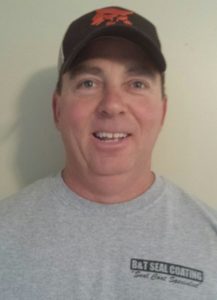 Hello, my name is Buddy Carson. I am the owner and founder of B&T Sealcoating, LLC. We have been in business since 1995. I served in the Army Reserve from 1981-1985, and believe those experiences shaped my life and made me who I am today.
I have been married to my wonderful wife Connie for 34 years. We have two children, both married now, and four beautiful grandkids!
I love spending time with my family and friends. I enjoy hunting and fishing, especially bow hunting.
I pride myself in the quality of our work and the great relationships B&T Seal Coating has developed with our existing customers, many of which we have worked with for 18 years. We look forward to working with you and helping you with all of your asphalt needs.
Give us a call at (317) 736-8656 or click here for a free estimate.